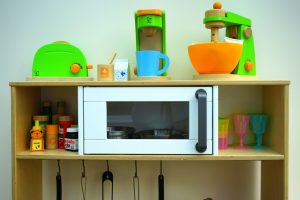 This is the time of year for garage sales … there seems to be one or two in full display nearly every time I run an errand.
You might call them tag sales, yard sales, or even moving sales.
If you have been considering a purchase of a small kitchen appliance or specialty gadget, garage sales are a great way to have an inexpensive "trial run" to get an idea of what features are important to you, as well as whether you will even use the item at all. A large majority of small kitchen appliances are rarely used and many of them find their way to garage sales.
For example, bread making machines are a common item to find at garage sales in my area. The average price for a new-looking machine is about $5.00. Yup. $5.00 for a machine that probably cost $60.00 to $100.00 new.
Personally, I love my bread machine. I use it often. But if you visit garage sales in my area, it would seem that I am in the minority, and that many bread machines get used once or twice and then abandoned.
So, in this example, if you have been thinking about buying a bread machine, you could find one at a garage sale and take it home and experiment with it to see if you will actually use it enough to warrant owning one. If so, then using the machine will also help you to decide what features are important to you and if you are satisfied enough to keep the one you bought or if you will now buy a new model with greater confidence of which one to select. If you choose to buy a new machine with better features, the garage sale machine can be given away to a friend or charity for a win-win solution.
My guess is that you'll save a considerable amount of money on small kitchen appliances this way, especially the specialty ones. Many (if not most!) specialty appliances are used once or twice and then forgotten, given away or sold. Bread makers, waffle makers, ice cream makers, single milk shake mixers, tabletop grills, frozen ice drink makers, pocket sandwich makers, food dehydrators, etc., are the type of appliance that you tend to either really love and use or you find that it's just too much trouble to get it out, use it, and clean it. Weed out the latter ones with a $5.00 or $10.00 purchase price, rather than spending $75.00 or $100.00 for something that will sit unused in your cabinet.
One important note – whenever you buy a small appliance at a garage sale, take the time to ask the owner if the appliance works and what they did/didn't like about it. I almost always get an honest answer. Quite often the item is still in the original box and looks barely used. You may even be able to plug the appliance in and see if it works.
My son has been asking for waffles, so I'm on the lookout for a waffle maker. I've checked out prices for new ones, so I'll recognize a true bargain when I see it. Now that he's been asking, I'm looking forward to having a breakfast of waffles, too! Since I have my doubts that I'll use a waffle maker often enough to warrant spending a lot of money on one, I'm looking for one in great condition that I can experiment with.
[Update: I found a good waffle maker at our Humane Society's Red Barn Resale Shop. $2.00! It makes yummy waffles. ]
How about you? Have you found a favorite kitchen appliance at a garage sale? I'd love to hear about your experience.
Have fun looking for and experimenting with your bargain garage sale finds. That's the Fat Dollar way.
Editor's Note: this is an updated post from 02-04-12