[Editor's note 08-18-19: I updated the prices and availability on most of these and had to replace a few. Some are now somewhat over $10.00. This was originally posted Dec 2012!]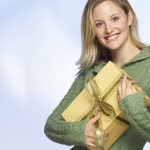 It's wonderful to be able to give special gifts at Christmas, and it's even more wonderful to be able to give a perfect, yet inexpensive gift.
Last year The Fat Dollar published Frugal Gifts – 10 Inexpensive Gift Ideas and Awesome, Yet Inexpensive Gift Ideas but there are still many more gift ideas for gifts $10 or less. Most of these are for older children or adults. I've tried to include links where I thought it would help you find the specific recommendation.
1. Make an Admiration or Adoration Box.
Start with a smaller box or a pretty jar. Decorate it with fabric, costume jewelry, and/or trim if you like.
Next take slips or squares of paper and write (or print with your computer) one thing on each slip that you love, admire or find unique about the person the gift is for. You can even write special memories of that person. Use full sentences, single words, even little photos or drawings. The idea is for each slip to bring a special thought or feeling.
You can get as creative as you want with decorating the slips of paper, using calligraphy, special paper, or printing them with your printer with special fonts for the letters.
Put the slips in the box or jar so that the person can draw one out and read it whenever they like or whenever they need a boost of love.
This is an especially good present for grandparents or for someone who does not really need more "things".
Cost: Will vary with how much decorating you do and whether you buy a box or container, but the estimate would be $1.00 to $3.00 in paper and decorating materials.
The current sale includes: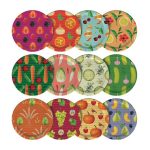 Mortier Pilon Mason Jar Lids (Beautiful!) – set of 12 for $5.69
Heirloom Vegetable Gardening CD for $4.00 (Yes, some of us still have CD players)
The Bountiful Container Guide to Container Gardening $8.35
Cost of each above gift is $4.00 to $8.35 each (not including shipping)
3. If you are buying for a writer or someone who keeps a journal, look at the Miquelrius line of notebooks.
These are premium notebooks and my personal favorite for journaling. I'd rate them a 5 star. The pages are ultra smooth, the lines are fine and straight, and the spirals are high quality. The notebook lies flat for easy writing.
You can buy them from amazon.com
Cost: $12.99 includes prime shipping
(Yes, I realize this is more than $10.00. The price increased since the original post. But I still love these notebooks and wouldn't have anything else for my morning pages.)
4. Book Ideas:
Man Up!: 357 Classic Skills for the Modern Guy – paperback – currently $9.98 at Amazon.com
How to Retire Happy, Wild, and Free – currently $9.93 at Amazon.com
7 Habits of Highly Effective Teens– currently slightly over our $10.00 limit at $11.34
The Everything Kid's Science Experiments Book – currently $9.99 at Amazon.com
The 125 Best Brain Teasers of All Time– currently $9.40 at Amazon.com
5. For the book reader – a book light
Energizer LED Book Light – currently $7.90 at Amazon.com
LED Book Light by French Bull– currently $9.99 at Amazon.com
6. Leather Kindle Cover by mCover in Pink , Green, Blue, or Black
ACdream Case for the Kindle 10th Generation and Kindle 8th Generation – currently $9.99 at Amazon.com
Note: Be sure you know the Kindle model/size
7. Make a book of your family's favorite recipes – hand write or print with your computer.
Put them in a spiral hardback notebook and leave room for the recipient to add their own favorite recipes. This is especially nice to give to a new family member or to a new bride.
My Favorite Recipes – It is very nice for recipes … I just wish it was a little more colorful!
Blank Cookbook Recipes & Notes – $6.99
8. Bag of gourmet coffee and a coffee cup
Fresh Roasted Coffee LLC has many selections of coffee at $9.95
9. Make a gift basket
Ideas: Variety of popcorn in a popcorn bowl
Muffin mixes and a muffin tin
Pancake mix and syrup (darn it, adding a skillet or griddle would take the cost over $10.00)
Jellies and jams and a box of biscuit mix (or a container of your homemade biscuit mix)
Decks of cards and a book of card game rules
Basket of soaps and wash cloths
10. Give a garden
– delightful kits for $9.99
My Fairy Garden – Tree Hollow growing kit – $9.99
A kit to grow herbs like basil is perfect for the cook! Try making your own kit with a beautiful flower pot, soil, and packets of seeds.
11. Give a bottle of wine.
FoodandWine.com has a a good listing of recommended wines , with many being $10.00 or less.
Gayot.com has a listing of the Top 10 Wines under $10.00
The Reverse Wine Snob has a listing of the Top 10 Red Wines Under $20.00 – several are 10.00 and under – look at Costco's Kirkland Rioja Reserva for $6.99 a bottle!
I personally like the Yellow Tail line of wines.
Barefoot wines are also quite pleasant and inexpensive.
12. For your northern friends, give a pair of gloves and a deluxe ice scraper.
Other ideas in this category:
Amazon has Proheat Reusable Hand Warmers

Carhartt Mens' Extremes Cold Weather Boot Socks
Dickies Men's Acrylis Thermal Boot Crew Socks
HeatMax Cold Weather Survival Readiness Kit (hand and foot warmers, body warmers)
Emergency Mylar Thermal Blankets (pack of 10) – $8.45 at Amazon
13. Zorbitz Lucky Bracelets or Zorbitz Karma Bracelets
These bracelets cost about $6.99 to $9.99 and each bracelet has a meaning or special purpose. There is a wide selection of really intriguing and attractive bracelets.
15. Practical gifts
These work when you want to give something to someone who has little interest in "stuff" or who may simply need certain things.
A book of stamps. Add envelopes and note cards too.
Gift certificate to their favorite fast-food restaurant (yes, I know I said practical and this is a little off-base). Restaurant.com offers discounted restaurant certificates, but I have not tried them so I cannot offer any information
Especially nice socks or underwear
Laundry basket with laundry detergent
Set of bath towels and washcloths (get the nicest you can – a good bath towel is a treasure after a shower!)
Set of kitchen towels – again go for the more plush ones; the cheap ones are somewhat useless and please don't get a microfiber kitchen towel
Set of shop rags and disposable shop towels (I did say practical, didn't I?)
Mason jar filled with homemade cookie or muffin mix with the recipe attached (I love making these!)
An assortment of spices and herbs – try Penzeys Spices, The Spice House, your grocery store, or local specialty shops. It's especially nice to get a spice or herb that a cook might hesitate to buy because it is a little more expensive than average.
Make and freeze a meal, dessert, main dish, side dish, or snack
Fill a large, tightly-lidded food storage container with homemade biscuit or muffin mix.
A set of re-useable shopping bags
Give a deluxe mechanical pencil to someone who appreciates writing instruments such as a writer, engineer, or accountant
A couple of low-energy fluorescent (CLF) or LED bulbs to replace their energy-hogging incandescent bulbs
An assortment of chocolate bars for the choc-a-holic (of course this is practical)
A fire extinguisher, smoke alarm, or carbon monoxide detector
An assortment of AA and AAA batteries (try the Maxell batteries from Amazon)
If they have a charger, they would love more rechargeable batteries – find out what kind of charger they have – you can buy the specific battery brand or many chargers will charge a variety of brands of rechargeable AA and AAA batteries
Make a set of coasters from 4-inch ceramic tiles – use paint, or decoupage pretty gift wrap. Glue a piece of felt on the bottom.
If you have leftover herbs from your garden, make sachet bundles or little pillows with either specific herbs (like lavender or mint) or from a mixture.
Give a small planter or flower in a pot
Make a little gift basket for their favorite pet
Give a special Christmas ornament that recognizes a person, special interest, or hobby
Supplies for their hobby – scrapbooking, photography, bird watching, small rocket launching, etc. – find out what they frequently use or like. Unless you've heard the person specifically express an interest in something they don't normally use, then for our practical section, it's best to buy them something that they normally use but is harder to get or is slightly out of their current budget.
I hope these give you some ideas. As you can see, you can give special gifts for $10.00 or less.
If you have additional ideas, share them with us in the comments. Thank you!
(Note that some of the links are in affiliation with Amazon.com and may pay us a commission.)