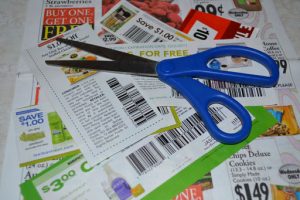 Have you ever seen a grocery coupon offered online or as an attachment to an email that seemed to good to be true?
I learned a hard lesson about counterfeit coupons several years ago. I don't recall the source of the coupon, but I had printed an internet coupon good for a free rental at Blockbuster Video (yes, it was awhile ago!). It did not even occur to me that the coupon might be a fraud.
My then teenaged son and his girlfriend were going to Blockbuster to pick out some movies to watch. I suddenly felt generous. "Here," I said, "you can have my coupon. Get yourself a free movie rental." They were thrilled.
They were not so thrilled when they tried to rent the movie with my coupon. The coupon was rejected. To make matters worse, the manager pulled them aside and accused them of creating the coupon themselves and trying to commit fraud at the store. He even mentioned that he should call the police.
They were shaken. I was mortified. I still cringe when I think of it.
Since then, I have been overly cautious about printing or downloading free coupons from the internet. For the most part, I only print coupons from trusted sites like SmartSource.com , ValPak.com , Grocerysmarts.com, RedPlum.com and Coupons.com as well as directly from a product's company website, such as Purina.com.
Better yet, I usually download coupons directly to my grocery store card. My grocery store offers digital grocery coupons from a variety of name-brand sources.
How do you know if a coupon is counterfeit or legitimate?
There is a website, that if I had know about it back then, might have shown me that the coupon I had was a fraud. The site is the CouponInformation Center.com. It does not seem to be as vibrant or as frequently updated as it has been in the past, but the site still has good information.
Try visiting the Coupon Information Center and looking up your coupon. If it is listed on the list at the Coupon Information Center www.couponinformationcenter.com then you can save yourself a dose of mortification and throw it away.
Currently, the site is listing, among others, these counterfeit grocery coupons:
PepsiCo, All Brands, $3.00 coupon
Kraft Foods, Velveeta, 1 lb Free
Nestle, Friskies, one Free
Proctor & Gamble, Any Product, Free
and at least a few hundred more
Each counterfeit coupon listing has a Download PSA listing with a picture and description of the counterfeit coupon. There is also information on their (up to) $2500 reward system for helping to find and prosecute the person producing the coupon, but note that each coupon has an expiration date of the reward offer for that particular coupon.

So if you get a coupon that seems to good to be true, first visit the Coupon Information Center site and see if they have it listed. If they do have it listed as a counterfeit, consider reporting the source of your coupon to the CIC. Then toss the coupon.
Other steps to verify your coupon
If the coupon is not listed, you still can't be sure it is legitimate. To try to verify it, try visiting the product's website to see if your coupon is being offered there. You might also try visiting some of the major coupon distributing sites (see links above) to see if they are offering the coupon. You can even try googling it to see what you can unearth on it.
Another site to try for verification of your coupon is CouponsInc.com. They have a section on their site where you can enter the bar code of the coupon and they will tell you if it is a legitimate Coupons, Inc. coupon. Note that this does not work for other coupons. I tested the Veri-Fi It feature with a $1.00 off Turkey Hill Ice Cream coupon that I received in a mail flyer. I'm certain it is legitimate, but CouponsInc.com returned a negative because it was not one of their coupons.
Signs of a fraudulent coupon
CouponsInc.com advises that if a site is displaying a copy of the actual coupon, it is most likely fake. They advise that a legitimate coupon requires that you print it with special software (that you download and store on your computer) that prints the barcodes and also limits the number of times a coupon can be printed. You will only see the actual coupon when you print it.
Another sign is a coupon that appears to have been cut from a flyer or magazine, yet it has a blank back.
And need I say this: If it seems to good to be true, such as for a free product, then it very likely is.
Try Customer Service to ask about your coupon
If you still are unable to verify the coupon and the offer is valuable enough that you hesitate to toss it, I would contact the product's company customer service center and ask them if your coupon is legitimate.
I would not take any chances on a questionable coupon that you cannot verify. Tossing it could save you from some extreme embarrassment.
How about you? Have you ever come across a counterfeit coupon?
Editor's note: this post has been updated from our original post from 08-18-13