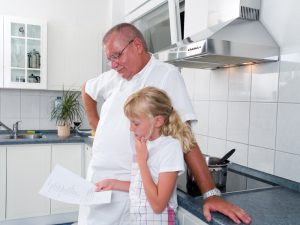 Editor's note: this post has updated content and links were updated from the original post
According to the US Census Bureau, the average family of 4 with a moderate cost food plan will spend $185.50 to $221.00 per week on groceries, depending on the ages of the children.
Just cutting those costs by a mere 10% will save $18.55 to $22.10 per week, or up to $1149.20 a year!
If you are trimming your food budget, you have probably already made a shift from highly processed foods to homemade foods. This not only saves money, but is usually much healthier since your homemade dishes will not have the preservatives, food colorings, artificial flavorings, and added fat that so many processed foods have.
One way to further lower your food costs is to be willing to experiment with recipes. If you want to make a new recipe, first read it all the way through. Does it call for a specialized spice or have one expensive ingredient? Why not experiment with substitutions?
For example, does your recipe call for allspice? Try substituting cinnamon or a dash of nutmeg. Dry mustard? Substitute prepared mustard (use 1 Tbs prepared for each 1 tsp dry.)
Does your recipe call for shrimp? Experiment with substituting chicken (really!) or any variety of fish.
The new cookie recipe calls for butter? Experiment with butter-flavored shortening (get the kind that has zero trans fat for a healthier cookie.)
Is a cup of wine part of the recipe? Try grape juice, apple juice, or even chicken stock. The NDSU link below even has a substitution using water, lemon juice and sugar.
You can also use the expensive ingredient, but cut back on the amount. For example, in a casserole, use 3/4 lb of meat instead of 1 lb. in the recipe. If this affects the volume of the dish, make up the difference with a vegetable, cheese or pasta.
Here is a very comprehensive list of ingredient substitutions from the North Dakota State University. Excellent resource – bookmark it for future use!
Learning to use tasty, yet less expensive, ingredients in your recipes can be a tremendous help with your food budget.
It can also help with your gasoline budget if learning to substitute will save you from making an emergency trips to the store to pick up missing ingredients.
What about you? What substitutions or changes have you made to recipes that lower your food costs yet still make a delicious result?
Other resources:
Mayo Clinic Healthy Recipes: A guide to ingredient substitutions
All Recipes: Common Ingredient Substitutions