Ok, maybe your old stuff isn't worth a fortune, but it could be worth more than you expect. While I was clearing out some of my own clutter, I happened across a 2012 Woman's Day magazine. (Yes, I did say I was clearing clutter.)
An article in the magazine intrigued me. It listed several items that "could fetch big bucks on places like eBay". Hmmm.
Here are the things that were listed as possibly valuable items hiding in your home:
1. Small kitchen appliances – like bread machines, food dehydrators, espresso machines
2. Video Games – check gazelle.com
3. Tacky Sweaters – sweaters decorated with things like pictures, holiday themes, cats – the ones that Aunt Gertrude gave you that you would never, ever wear
4. 1950s Furniture
5. Vintage Electronics – pre-1980s stereo and hi-fi equipment – LP turntables, reel-to-reel tape decks, vacuum tube amplifiers, etc.
6. Lunchpails – vintage lunchboxes with TV show or celebrity images
7.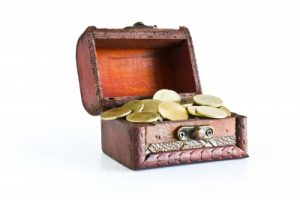 – old chains, earrings, broken bracelets
I'm on the lookout for tacky sweaters now. Did you know that you can search "tacky sweater" on e-Bay and a whole list of them will come up? It looks like you could sell one for at least $9.99. Not bad for something that you would love to get rid of!
Video games, I'm not so sure about. It must depend on the game. We've tried to sell some of our own games and sometimes the best offer was $1.00 per game. Sometimes it was $10.00.
Here are some other resources for finding potentially valuable items in your attic:
The Penny Hoarder – 7 Places to Find Hidden Cash .
Huffington Post – 15 Items in Your Home that May be Worth Money
Reader's Digest – 9 Vintage Items That May be Worth Money
Mashable – 9 Valuable Things You Didn't Know are Lying Around Your House
Cracked – 8 Insanely Valuable Items You Probably Owned and Threw Out
The Children's Toys That Have Soared in Value
Bottom Line Personal – Don't Throw Out These Old Electronics
BuzzFeed – 33 of your Childhood Toys that are Worth a Fortune Now
How to Sell Your Old Stuff
Once you find any collectible or valuable items in your home, selling them is the next step. You can reach a broad market by selling on the internet. While selling your item on eBay is a good way to consider, you should always first Google your item or do an internet search for your item to see if there are any collectors or specialized sites that might be easier and more profitable for selling your particular item.
One relatively new way to sell things on the internet is Facebook. Try searching "garage sale" and your city name on Facebook and you will likely be amazed at how many buy-sell-trade pages are operating in your area.
In my area the general procedure to sell something on Facebook is to first join the Facebook group for the online garage sale. Then, following the rules of the group, post the item for sale with a photo and description. The first person to comment that they are interested or want to buy must be given the opportunity to purchase. Once the sale is agreed, then a public place is set for meeting and completing the sale. If you break any of the rules of the group, then you are likely to be banned from the group
This is a good way to sell larger value items, but not necessarily items that will not sell for very much, especially since you will have to take the time and spend the gas money to drive somewhere and meet a prospective buyer.
Certainly you can also use the traditional ways to sell: letting others in your circles know you have a unique item for sale, advertising in local papers and newsletters, and placing an ad on craigslist.org.
A last resort would be a local pawn shop. While you can quickly sell most moderately valuable items to a pawn shop, expect to sell for much less than you would receive if you sold it yourself.
Finding treasures in your home and selling them has so many benefits: it clears out items from your living space, it puts an item into the hands of someone who really values it, and it gives you some money for investing or paying bills. Now that's the Fat Dollar way!
Be sure and share with us any of your own found treasure stories!
Photo credit: freedigitalphotos.net & Stoonn